Contact us to request a leader training session in your community.
Click here to find a training session near you.
As part of FPIW's efforts to help the people of Washington build a strong biblical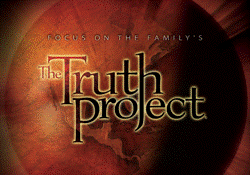 worldview, FACT is working with Focus on the Family to present The Truth Project™ training. The Truth Project™ is a powerful, DVD-based, small-group educational experience on developing a biblical worldview. Many of the problems in American culture are due to an ignorance of biblical principles. Too often even devoted, born-again church members hold a dualistic worldview in which they think biblically on religious topics (i.e. heaven, salvation, Jesus, etc.), but they think in worldly terms when it comes to other topics such as ethics, evolution, history, politics, finances, work, marriage, parenting, entertainment, etc.
Focus on the Family has created this informative, entertaining, and biblically sound curriculum to equip Christians on living out their faith in a post-Christian culture.
FACT Vice President of Church & Community Relations, Dr. David Shelley, who holds a Ph.D. in theology, says:
In creating this tool for mass usage across the world, Focus on the Family wisely avoided the controversial areas of ecclesiastical doctrine that tend to cause division among the churches and denominations (i.e. methods of baptism, free will vs. predestination, Catholic vs.Protestant, church polity, pneumatology, etc.). Instead, they focused on the fundamental questions of systematic theology: Is there absolute truth? Can the Bible be trusted? Who is God? Who is mankind? What is the purpose of mankind? etc.
As a pastor, I've always longed for a way to help members of my congregation move from a shallow, "pop-culture" concept of Christianity to a deeply held, theologically sound understanding of the faith. The Truth Project ™ is by far the best curriculum I've ever seen, in 20+ years of ministry, to equip believers with a solid, Bible-based worldview.
The Truth Project ™ is being used of God all over the world. The latest numbers indicate that since 2005, Focus on the Family has held over 35 regional training conferences, equipping over 65,000 leaders, and has seen over 1.3 million participants enroll in the course worldwide!
You Can Start The Truth Project in Your Church NOW!

Because of FACT's association with Focus on the Family, FPIW can now offer local training to potential group leaders at any church in the state of Washington. No longer do you have to wait for Focus on the Family to hold a large, regional conference. Dr. Shelley can literally come to your church, or to a group of churches in your area, and train your small group leaders on using the Truth Project™ . . . AND . . . the training takes less than 4 hours. This can be completed on a Saturday morning, Sunday afternoon or a weeknight. Trainees will leave with a box of The Truth Project™ DVDs, access to the leader web site and all the information needed to begin offering The Truth Project™ right away.

Please call Dr. Shelley, (615) 469-4139, about scheduling a Truth Project™ training soon. E-mail him at David.Shelley@FACTn.org or learn more at www.FACTn.org/truthproject.htm.

To attend a training session, click here.