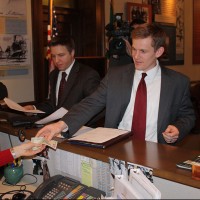 Now it's our turn!
by John Geis | February 16, 2012
Governor Gregoire signs same-sex marriage bill.
Now it's our turn!
Referendum filed and we the people will vote to overturn law.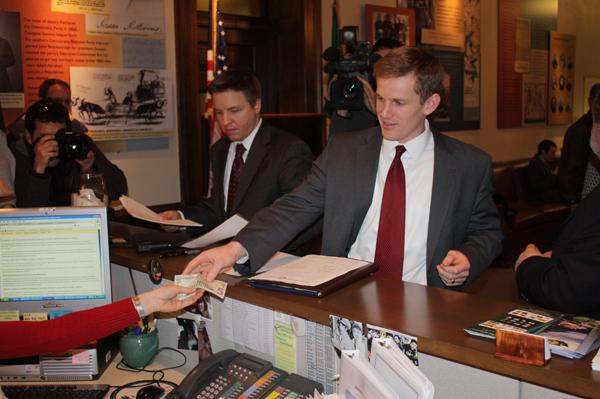 Backholm pays the $5 filing fee for R-74 on February 13, 2012. (Courtesy of the Secretary of State)
By John Geis | 15 February 2012

On Monday, February 13, 2012, Governor Gregoire signed into law Senate Bill 6239, which overturns thousands of years of cultural and religious marriage customs and redefines marriage as between any two persons, even those of the same sex. Despite the fact that there were persons cheering the governor and gay legislators in the passing of this law, this is unmistakably and undeniably a profound defeat for the people of Washington State. But all is not lost.
Undeterred supporters of traditional marriage between one man and one woman exercised our right in Washington State to file for a referendum with the Secretary of State. Joseph Backholm, the Executive Director of the Family Policy Institute of Washington (FPIW), was chosen to be the representative to file on the behalf of Preserve Marriage Washington. He was quoted saying "Voters will have the opportunity to define marriage in our state."
Preserve Marriage Washington is a newly created coalition which initially includes the Family Policy Institute of Washington, Stand for Marriage Washington and the National Organization for Marriage (NOM). It is expected that hundreds of groups, churches and individuals will be involved in the signature gathering phase, and even more during the campaign. Now begins the process of referendum.
Exactly what is a referendum? It is a citizen sponsored challenge of a particular piece of legislation that our legislators have passed and the governor has signed into law. This challenge is brought forth by the citizens of the State in an attempt to overturn this law by a state-wide vote of the people to reject the law. We are fortunate here in Washington State as not every state has this option. A simple majority wins, even if it is by one vote.
So what happens next?
First the Secretary of State (SOS)'s office gives the filed referendum paperwork with our proposed language a number. It is Referendum 74 or R-74. Initially the SOS's office said it was R-73 and later changed the number. R-73 was previously given last spring to a campaign to challenge last year's medical marijuana law, which was unsuccessful in getting the signatures.
Now our filed referendum and its proposed and carefully crafted language has been sent from the SOS's office to the Attorney General (AG)'s office where they will decide on the exact language they believe is appropriate for this referendum. They must prepare a ballot title, a description of no more than 30 words, a ballot summary of no more than 75 words, and a question that unmistakably delineates the intent of the voter. The AG's office has 5 days to complete this work and publish their results.
It is expected that upon completion of the official referendum language it will be challenged. If so, the challenger has 5 days to seek a review by the Thurston County Superior Court. They are required to "expeditiously" formulate a judgment on the language within five days. Their judgment is final.
The time necessary for this whole process would be approximately three weeks. It could be less but three weeks is the judgment of many, including the Secretary of State, Sam Reed.
Once the finalized language is received, we will be able to gather signatures. This is done on petitions. We will print and distribute petitions upon which citizens in opposition to this law may sign. We will need 120,577 "valid" signatures turned in to the SOS by June 6, 2012. That number is 4 percent of all votes cast in the 2008 election for governor.
Washington State's Elections Division suggests turning in 150,000 or more, because there is an average error rate of 18 percent. This is due mainly to invalid and duplicate signatures but also signatures that do not match the one on record.
Valid signatures are only those people who are residents of Washington State and registered voters. So if you or any of your friends are not registered voters go and register immediately!
To register for this exceptional and constitutional right in the U.S. to vote, you must be:
1. A citizen of the U.S.,
2. A resident of Washington State, and
3. At least 18 years old by election day.
You cannot register if you:
1. Have a felony conviction on your record and
2. Have been declared mentally incompetent and ineligible to vote.
You may register online at the SOS's website, www.sos.wa.gov, request a form from them online or by phone at (360) 902-4151 or go to your local driver licensing office. The Department of Licensing website is www.dol.wa.gov and their phone number is (360) 902-3600.
Submitting enough signatures will table the law, which means it will not go into effect. It will remain tabled until after the voting has taken place on November 6, 2012 and the final tally of votes has been certified by December 6, 2012. Whoever has the most votes wins.
Now we must try to get as many signatures as we can and show the entire state, nation and world that we believe in traditional marriage. Please visit www.fpiw.org at this link to request a petition today.
In order for marriage to be protected and preserved, your generous support in time, effort and financial contribution are vital. We thank you very much in advance!