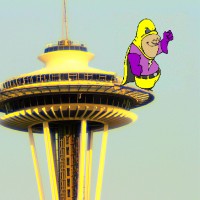 Bill Gates says Emperor's Clothes are Beautiful
by Joseph Backholm | July 3, 2012
So... Bill Gates and Steve Ballmer have decided to pony up a portion of their significant resources to support the effort to redefine marriage.
Since the left suspends their usual antipathy for multi-national, high CEO salary paying, resource sucking, obscene profit making corporations when they decide to support redefining marriage, you'll likely hear a lot about the wonderful business support there is in Washington for genderless marriage.
How should we respond now that Bill Gates and Steve Ballmer apparently think relationships without a mother and father are equally good for kids?
The emperor is still naked.
You probably know the story. A whole kingdom became convinced that the emperor had a beautiful new wardrobe. First they convinced the king, then his subjects, then the townspeople. Soon the entire kingdom was having a parade to celebrate the new clothes of a naked king because people were afraid of what response they would get if they stated the obvious.
It took a child, who was too unsophisticated to understand peer pressure, to articulate what everyone really knew all along; the emperor is naked.
I don't know Bill Gates or Steve Ballmer. I don't really run in those circles. In addition, there are a whole bunch of things I would never feel comfortable challenging them on. But I do know they're wrong about marriage.
Why am I so confident? Because despite their impressive resumes, they don't make the rules of the universe. Just like me, they are subject and not lord.
Imagine a scenario in which we decided that gravity needed to be done away with because it discriminates against wingless creates. Having convinced all of our friends that we needed to get rid of it, we created a legislative body that passed a "flight equality" bill and declared that gravity no long applies to us. In celebration of our legislative victory, with a sincere belief that we had freed ourselves from the law of gravity, we walked onto the roof of the Space Needle, in a cape, to celebrate our independence from gravity.
The moment we began our "flight" we would discover the limits of our legislative authority.
So it is with the debate over the definition of marriage, which, really, is about much more than simply marriage. Do kids need moms and dads? Does gender matter? Is all sex good as long as its consensual?
We aren't right because we're smarter, richer, more generous, better neighbors, or better looking. We are right about marriage because we don't make the rules.
Your body can't run on helium, it needs oxygen. Your car won't run on water, it needs gasoline. The human race was designed so that it is optimal for children to be raised by their mother and father. Proving this point simply requires significant experience with the alternatives.
I realize this is unpopular in some circles, but it's still true. And there's nothing any of us can do about it. We can pretend that the rules don't exist, but all we will end up doing is proving their existence.
Just like we would if we saw you standing on the edge of the Space Needle in the cape, those of us on this side of the debate are simply trying to avoid the inevitable pain associated by proving the existence of a law by trying to break it.
True, the consequences of breaking these laws will not be as immediate as pretending there is no gravity, but they are no less certain.
I don't say this with any particular pleasure. I think I speak for a lot of people when I say it really would be easier for all of us if the laws of the universe allowed us to do whatever we wanted without any consequences; if there were no rules governing human behavior and relationships. Wouldn't it be wonderful if every idea was equally valid? But, again, that's not reality, even if Bill Gates and Steve Ballmer want it to be.
The question for the rest of us is, "if Bill gates and Steve Ballmer told you a naked king had beautiful clothes on, would you agree with them?"