Advocating Marriage Between One Man and One Woman
by Bethany Speier | March 22, 2012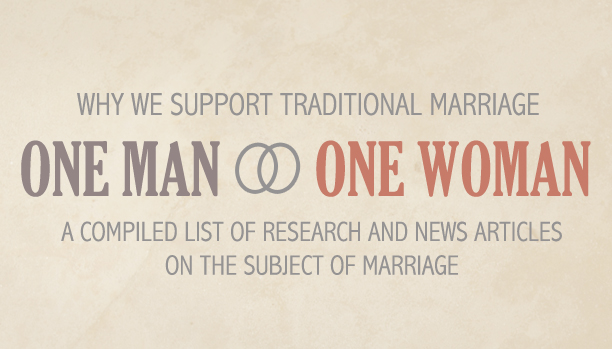 Complex issues like the redefinition of marriage can seem overwhelming. As a Christian, you know there is biblical evidence advocating marriage between one man and one woman, but for many of your friends the Bible may not be considered valid source of information.
And although you'd like to be prepared with logical and sensible arguments, you may not be sure where to begin.
We have compiled a list of articles which will hopefully get you started.
The document has been organized into topical sections citing research and news articles relating to that particular subject.
Mothers and Fathers Matter
The Breakdown of Family
Considering the Ramifications of Redefining Marriage
There Just Isn't Enough Research on Children Being Raised in a Same-Sex Parent Home to Conclude "The Kids are Alright"
You can download the PDF file here:
Why We Support Traditional Marriage (One Man & One Woman): A Compiled List of Research and News Articles on the subject of Marriage. (03/22/12)

We hope you find it helpful. Please forward and share this document with your friends.